Service Duration: 7-14 Days
 

Includes: Every exposed painted panel, with the option of door shuts. All TopazSkin is completed to OEM paint finish standard. The Topaz Signature finish is available at an additional cost.
Applying removable coloured TopazSkin self healing paint protection to every painted panel. We have the facility to match any paint colour for the TopazSkin. It is also possible to colour or tint any carbon fibre, metal or plastic panels, including wheels and brake callipers.
We are also able to incorporate stripes and/or liveries with the TopazSkin colour change.
Before and After TopazSkin
By now hopefully you've all heard of Paint Protection Film (PPF). Topaz Skin is the next generation of paint protection known as Paint Protection Spray (PPS) which we have developed with Ngenco. TopazSkin provides a completely seamless, 100% coverage of the car's paintwork. Just like PPF it protects the car from stone chips and scratches, and has self-healing properties. However, it doesn't stop there. TopazSkin is completely customisable. We are able to use any paint colour with TopazSkin, with stripes and liveries to achieve absolutely any look you can imagine. Even more impressive, it's all completely removable when desired!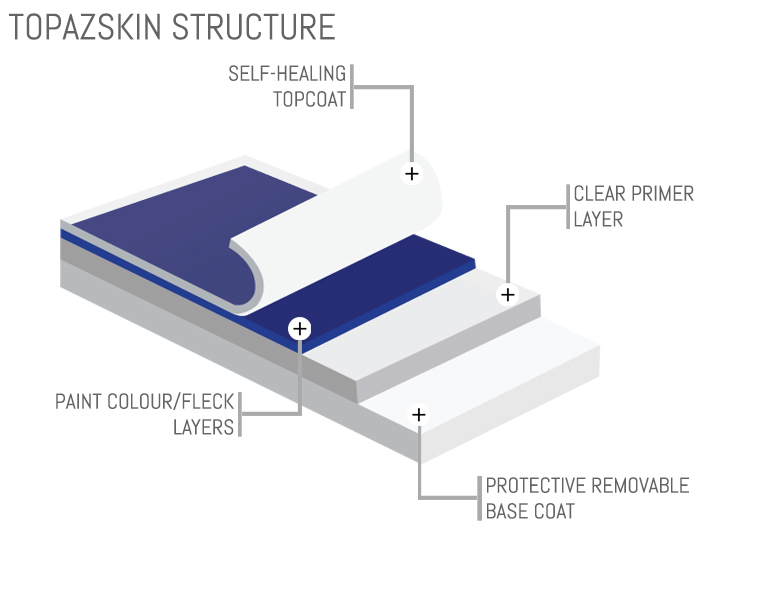 How is TopazSkin different to other peelable paints?
TopazSkin film combines SEAMLESS COVERAGE AND UNPARALLELED CLARITY. Existing products often suffer from a rubber-like texture and appearance. TopazSkin guarantees the same glossy and deep finish of paintwork, with the protection and self-healing capabilities that paint cannot provide.
Better yet TopazSkin is completely customisable, with any colour or combination of colours possible. All of this is executed to the high Topaz standard.
With its 5-YEAR PARTS AND LABOUR WARRANTY against cracking, peeling, staining and hazing, TopazSkin is the most revolutionary paint protection/customisation product on the market today.
TopazSkin is delivered as standard with the same quality of finish as OEM paint (with of course all of the added benefits of being PPS), however, customers are also able to opt for the Topaz Signature Detail for their TopazSkin, giving the reflections in the paintwork the highest possible standard and clarity.
What are the benefits of TopazSkin?
Protection
TopazSkin protects your paintwork from chips, minor scuffs and scrapes, environmental factors such as bug splatter and protects the finish against defects from poor washing techniques. TopazSkin offers a complete and seamless coverage which is not possible with PPF.
Enhancement
Clear TopazSkin has a superior optical clarity and is very easy to maintain. When looked after correctly it gives a depth of shine like freshly detailed paint for many years. Coloured TopazSkin has the same advantages as clear, however, you choose the colour or livery!
Self Healing
TopazSkin has self-healing properties. Stone chips, scuffs, scratches and swirls that don't penetrate the TopazSkin topcoat disappear with the application of heat from hot tap water, the car's engine or even just the sun.
Replacement
If a panel needs replacing, you won't be off the road for long. Most panels can be replaced quickly – unlike traditional paint repairs, which often take weeks.
Cost
TopazSkin is only marginally more expensive than conventional PPF, and considerably cheaper that the cost of respraying a car with traditional methods.
Freedom
TopazSkin can be any colour or finish. Best of all it is completely removable when desired, leaving the paintwork underneath in perfect condition.
Which TopazSkin coverage to choose?
TopazSkin Colour Change
TopazSkin colour change has all of the advantages of clear TopazSkin, however, it has the added benefit of complete customisability. You are able to choose absolutely any colour code and seamlessly match your car to it. We are able to offer any colour or finish on all or any parts of the car, including the wheels and brake callipers. We are able to tint exposed carbon fibre any colour, which from the manufacturer is a very expensive option.
TopazSkin Atelier
TopazSkin Atelier allows you to take customising and protecting your car to the highest level. We offer in house design and rendering services to help you visualise the ultimate look for your car. We are able to achieve anything from simple stripes and dreamlines, to complete liveries. The only limitation is your imagination.
TopazSkin is four to five times thicker than the factory clear coat, however, it does not stop there. We are able to make TopazSkin as thick as we desire at particularly vulnerable parts of the car, such as infront of the rear arches. This gives increased protection without changing the perfect glossy finish.
We provide a 5 Year Warranty on all our TopazSkin that has been applied by Topaz's team of certified installers, the longest and most comprehensive warranty of its kind in the UK. We warrant your TopazSkin against yellowing, crackling or lifting and will replace any area of TopazSkin that is on inspection deemed to not meet this criteria during the course of its warranty (from date of purchase). Of course the warranty does not cover damage to TopazSkin caused by accidents, collisions, intentional misuse, ordinary wear or damage caused by products or cleaners not recommended for use on TopazSkin. As well as the warranty we provide clients with thorough After Care advice and documentation to help keep the car looking great for many years to come. For more information, warranty exclusions, full Terms & Conditions or After Care information please contact a member of the Topaz team.
After Care and maintenance
Once your car has been protected by our Topaz Installers you can also enjoy the peace of mind knowing that maintaining the glossy appearance of the TopazSkin is still very simple, we provide After Care instructions along with your warranty documentation but a few key points are:
● As the application of the TopazSkin involves fresh paint and topcoat we advise to not wash the car for the first 7 days afterwards, guaranteeing each layer has had time to settle properly.
 
● Once the TopazSkin has cured, you are able to wash the car as normal (if possible use the twin bucket method and a lambswool wash mitt), if using a pressure washer ensure that you keep the spray lance at least 3 feet away from the surface of the TopazSkin especially the edges as the pressure may lift the edge of the TopazSkin, we recommend a PH neutral shampoo and car care products such as Gtechnic or Swissvax.
 
● If you get bug splatter or bird dropping you should still remove this as soon as possible as you would with bare paint, while the TopazSkin adds protection the top layer has a similar make up to your cars own lacquer and will also be marked from the acids etching into it.
 
● If you like to polish or wax your car you can continue to do this on TopazSkin covered panels although more careful selection of the products must be taken. Polishes that are resin, solvent based or abrasive can mark the TopazSkin leaving a haze or damaging the self healing abilities and must be avoided.
 
● A good quality natural wax like Carnauba can be used, of course if you are unsure our team can advise on specific recommended products.
 
● Surface scratches and swirl marks in the TopazSkin will heal over a period of time, if you needed to accelerate the process then pour warm water (not boiling) over the desired area, that will help the upper most layer of the TopazSkin to morph back into its original state.