Service Duration: 6-8 Hours

Includes: Front bumper, Headlights and wing mirrors.
Installing self healing film on the highlighted areas.
Service Duration: 2-3 Days

Includes: Front bumper, full wings, full bonnet, side sills, Headlights and wing mirrors.
The full frontal coverage is the most popular option for motorists that enjoy their cars as they were intended.
 
Why choose Full Front and Sills Paint Protection Film?
Sills This package is the minimum we would suggest opting for to protect the most vulnerable areas that are prone to stone chipping and damage on your car. Lower levels of protection leave key areas of the car exposed to damage.
Service Duration: 3-6 Days

Includes: Covering all the external painted sections on the car.
This kit is the most comprehensive coverage Topaz have, its becoming a very popular option to clients wanting the ultimate peace of mind and protection for their pride and joy.
Why choose Full Car Paint Protection Film?
This kit includes the Front Bumper, Wings, Bonnet (Hood), Wing Mirrors, Headlights, Sills, Doors, Roof, Quarters, Boot/Engine cover and Rear Bumper. Essentially everything that is painted and/or carbon fibre, excluding the rear diffuser (this element can be added as a bolt-on, if painted or carbon fibre). This is the most common coverage option at Topaz due to the consistency of finish (PPF is extremely glossy and UV protected, meaning that if you go for part coverage over time the painted areas will look dull compared to the film).
Service Duration: 5-10 Days
Includes: Covering all the external painted sections of the car.
Our Custom kit is a bespoke design made specifically for your car in house.. If you have a one off vehicle this is the kit for you.
Why choose Bespoke Paint Protection Film?
This package is perfect for older cars, particularly those which are handmade, meaning no two are exactly the same. Most modern cars are symmetrical, meaning that we are able to design the PPF patterns for one side, and mirror them to the other. However, for some older cars, every panel is different, and the film needs to be designed from scratch. In fact, the tolerances we work with on these cars are so exact that when we work on a hand-built car (for example a Jaguar E-Type), we will save the PPF patterns to the chassis number of that car (should they ever need replaced).
/ Automotive Paint Protection Film Otley
Looking for paint protection film in Otley?
We've all seen the little stone guards car manufacturers use on wheel arches, the dull and discoloured film half way across a Supercars bonnet or perhaps the awful "car bra's"?
Actually Paint Protection Film or PPF was initially conceived and developed by the US Military as a way to protect Helicoptor rotors and other sensitive parts from debris and other intrusions. The thick film was applied on leading edges and potential impact areas, designed to be hard wearing and easily replaced in an environment where aesthetics were far from a necessity. As with so many modern day applications what started as military technology eventually found its way in to the commercial sector and over several decades has slowly developed into the various products we have today protecting our cars.
By comparison the glossy self healing films we use at Topaz Leeds today are a far cry from the thick, ugly 'Hele tape' of years gone by! In fact at Topaz Leeds we have developed our PPF films and installation methods to be almost entirely invisible, not only does its provide protection from chips, abrasions and environmental factors but the design, fit and appearance of our modern films actually serves to enhance the look of your car while protecting your investment.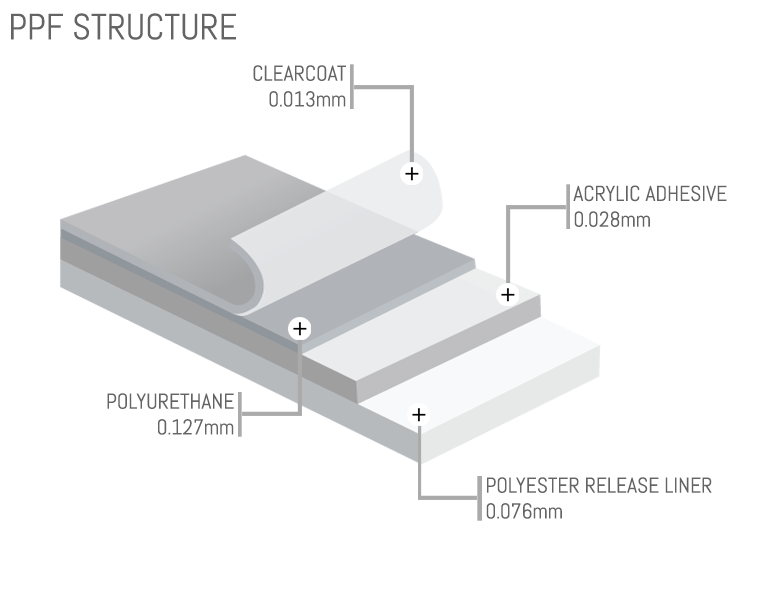 Topaz paint protection film combines BEST IN CLASS DURABILITY AND CLARITY NOT PREVIOUSLY AVAILABLE ON THE MARKET. With its very low surface energy our PPF's clear coat sheds contaminants that would otherwise stain or yellow conventional films.
Elastomeric polymers heal over time, to naturally eliminate swirl marks and other fine scratches.
With its 5-YEAR PARTS AND LABOUR WARRANTY against cracking, peeling, staining and hazing, our film is the most revolutionary paint protection film on the market today.
Protection
Our PPF protects your paintwork from chips, minor scuffs and scrapes, environmental factors such as bug splatter and protects the finish against defects from poor washing techniques.
Enhancement
Our PPF has a superior optical clarity and is very easy to maintain. When looked after correctly it gives a depth of shine like freshly detailed paint for many years.
Self Healing
Our PPF has a self healing layer. Stone chips, scuffs, scratches and swirls that don't penetrate this layer disappear with the application of heat from hot tap water, the car's engine or even just the sun.
Replacement
If a panel needs replacing, you won't be off the road for long. Most panels can be replaced within a couple of hours – unlike traditional paint repairs, which often take days or even weeks.
Time & Convenience
Should a panel require replacement it is a quick turnaround, most panels can be replaced within a couple of hours whereas paint repairs run into days even weeks.
Cost
Because our PPF is specifically designed to fit each panel it can be replaced individually meaning little or no need to strip the panels and no extra paint to blend the colour to adjacent panels.
What PPF coverage to choose?
Traditionally PPF was installed on wheel arches, the leading edge of the bonnet or the forward panels of the car. Today, many clients wants us to cover the entire vehicle. Such is the quality of the modern films and our design and installation processes that it really does make sense to protect the whole car.
Paint protection film can protect your car against damage such as stone chips, car park nudges and chipping, and day-to-day scratches.
With our custom designs, we can cover ANY painted, carbon fibre or smooth finished surface of the car, even interior trims. We have various options to suit each part of the car: thicker film for low down, high impact areas such as bumpers and sills, and clearer film for large, flat panels such as bonnets and roofs. All our film comes in matte, as well as traditional high-gloss options, to cover expensive matte paints and carbon fibre paints.
Where the Damage Occurs:
High impact areas (bumpers, bonnet, front wings, wing mirrors, lower doors, wheel arches, sills, headlamps, lower doors, wing mirrors).
Medium impact areas (rear wings, upper doors).
Low impact areas (boot lid, engine cover).
All of our paint protection film kits are designed in house from scratch and are not amended from film manufacturers patterns. Resulting in optimum protection in accordance to our stringent Topaz standards.
1. Once a car arrives onsite a full inspection of the car's condition is carried out, whether it is a new or used vehicle.
 
2. The car's paint is inspected further using a sun gun to highlight any defects, swirls, holograms and customers are offered optional paint correction where necessary before the film installation begins.
 
3. New models get patterned panel at a time, then digitised and loaded into our CAD programme for the design work to be done.
 
4. Once designed we move to the test fit, if any adjustments are required a new test panel is produced and again installed until the fit meets our exact specification.
 
5. Now we can move to the full installation of our PPF.
 
6. Finally we move to the first of three Quality Control stages before the car receives final cleaning ready for return to it's owner.
We provide a 10 Year Warranty on all our Paint Protection Film that has been installed by Topaz's team of certified installers, the longest and most comprehensive warranty of its kind in the UK. We warrant your film against yellowing, crackling or lifting and will replace any area of film that is on inspection deemed to not meet this criteria during the course of its warranty (from date of purchase). Of course the warranty does not cover damage to PPF caused by accidents, collisions, intentional misuse, ordinary wear or damage caused by products or cleaners not recommended for use on PPF. As well as the warranty we provide clients with thorough After Care advice and documentation to help keep the car looking great for many years to come. For more information, warranty exclusions, full Terms & Conditions or After Care information please contact a member of the Topaz team.
After care and maintenance
Once your car has been protected by our Topaz Installers you can also enjoy the peace of mind knowing that maintaining the glossy appearance of the PPF is still very simple, we provide After Care instructions along with your warranty documentation but a few key points
• As the installation of the film is a wet process we advise to not wash the car for the first 7 days afterwards, the moisture in between the film and paint is still evaporating during this time and using shampoos can affect this and the adhesive qualities around the edges of each panel.
 
• Once the film has cured, you are able to wash the car as normal (if possible use the twin bucket method and a lambswool wash mitt), if using a pressure washer ensure that you keep the spray lance at least 3 feet away from the surface of the film especially the edges as the pressure may lift the edge of the film, we recommend a PH neutral shampoo and car care products such as Gtechnic or Swissvax.
 
• If you get bug splatter or bird dropping you should still remove this as soon as possible as you would with bare paint, while the PPF adds protection the top layer has a similar make up to your cars own lacquer and will also be marked from the acids etching into it.
 
• If you like to polish or wax your car you can continue to do this on PPF covered panels although more careful selection of the products must be taken. Polishes that are resin, solvent based or abrasive can mark the film leaving a haze or damaging the self healing abilities and must be avoided. A good quality natural wax like Carnauba can be used, of course if you are unsure our team can advise on specific recommended products.
 
• Surface scratches and swirl marks in the film will heal over a period of time, if you needed to accelerate the process then pour warm water (not boiling) over the desired area, that will help the upper most layer of the film to morph back into its original state.